Initial Configuration of CubeBackup for Microsoft 365 on Windows
---
This article will guide you through the initial configuration of CubeBackup for Microsoft 365 on Windows. If you are using CubeBackup on Linux or in a Docker container, please refer to Initial configuration CubeBackup for Microsoft 365 on Linux or Initial Configuration of CubeBackup for Microsoft 365 using Docker.
Step 1. Open the CubeBackup web console
After CubeBackup has been installed, the web console will automatically pop up in your default web browser. You can also open the web console by either clicking the CubeBackup icon on the desktop, or by visiting http://<server-ip>:<port> on any web browser within your network.
If permitted by your company's firewall policy, it can also be accessed from outside your network at http://<server_external_ip>:<port> or an assigned domain name.
The default web console address is http://<server_ip>. If port 80 is already in use, the installation wizard will ask you to assign a different port.
Step 2. Set backup location
CubeBackup allows you to back up Microsoft 365 data to either on-premises storage or your private cloud storage. Currently, CubeBackup supports backing up to a local disk, NAS/SAN, Amazon S3 storage, Microsoft Azure Blob storage, Google Cloud Storage and Amazon S3-compatible storage. Please click the corresponding tab for detailed instructions.

Step 3. Register and authorize the Azure AD application for CubeBackup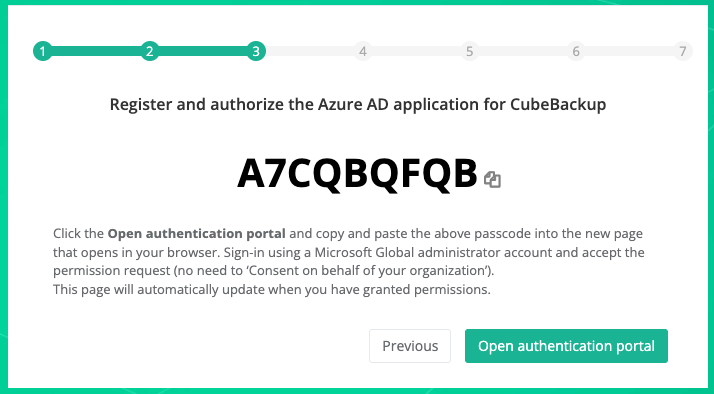 In Step 3, you are required to register and authorize an application in Azure AD on behalf of CubeBackup to access resources in your organization.
What is the registered application in Azure AD? Why is it needed?

Basically, an application registered in the Azure Active Directory acts as a service principal, which is used to apply identity and access management (IAM) provided by Microsoft's identity platform, and to authorize unattended operations such as calling APIs. Refer to this doc for more information.

CubeBackup must be authenticated as an Azure AD application with permission to backup and restore data for all users in your organization. Please follow the instructions below to register and authorize the Azure AD application for CubeBackup.
To create and authenticate your own Azure AD application, please follow the steps below:

CubeBackup will request an authentication code from Microsoft Azure. Copy the code displayed in the CubeBackup configuration wizard, and click the authentication portal link.

Please note that the code is valid for 15 minutes. If it expires, you will need to refresh the CubeBackup configuration wizard to request a new code.

On the Sign in to your account webpage, paste the code and sign in to Microsoft Azure as a Global Administrator in your organization, and then follow the prompt to grant the necessary permissions for CubeBackup.
Return to the CubeBackup configuration wizard and wait a few moments while CubeBackup verifies the server readiness of your application.
If an error message pops up, please wait a few minutes and try again. In some cases, the application registration and authentication need time to propagate through Microsoft's servers. If the error persists, please feel free to contact us at
[email protected]
.
Step 4. Select users to back up
Please select the users in your organization to include in the backup. All active users are displayed in the list and can be searched by name or email address.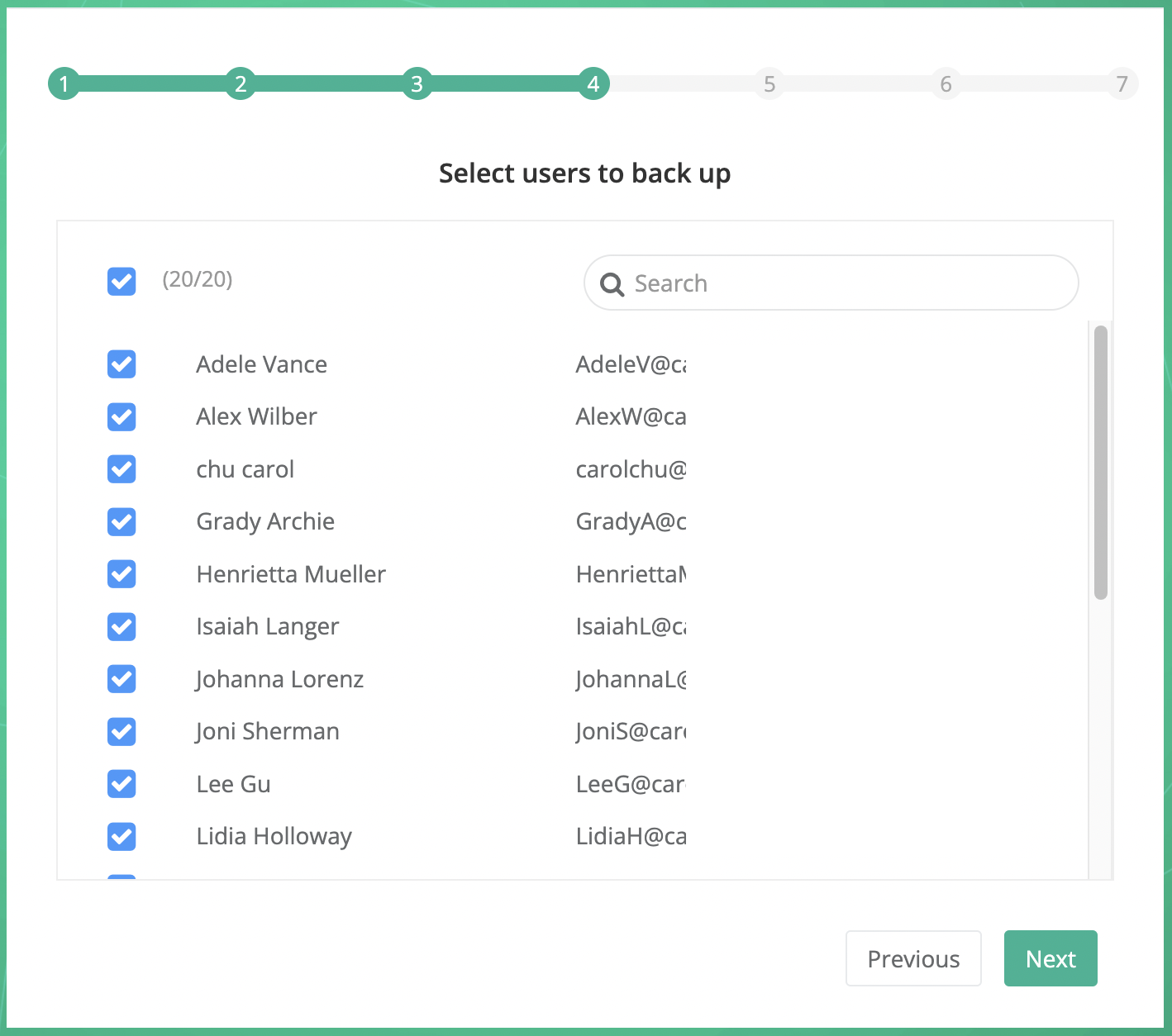 Step 5. Select SharePoint sites to backup
Please select the SharePoint sites in your organization to include in the backup. All active sites are displayed in the list and can be searched by name or URL.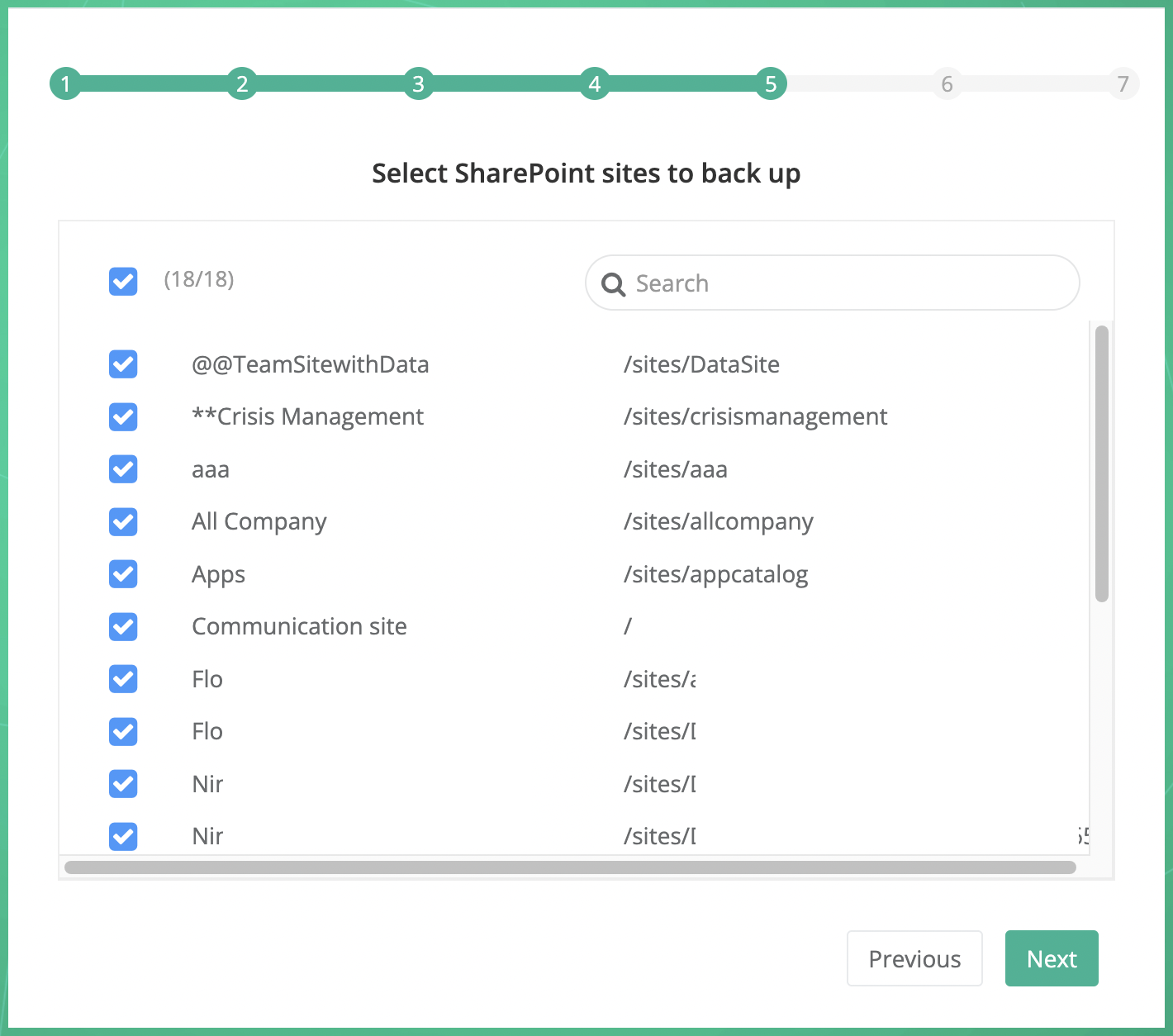 Step 6. Set up the CubeBackup web console administrator
In this step, you will set up the CubeBackup web console administrator account and password.
The administrator account does not need to be the Microsoft 365 administrator of your organization. You can assign any account as the CubeBackup administrator.

This account and password is only for the CubeBackup console; it has no relationship with any Microsoft services.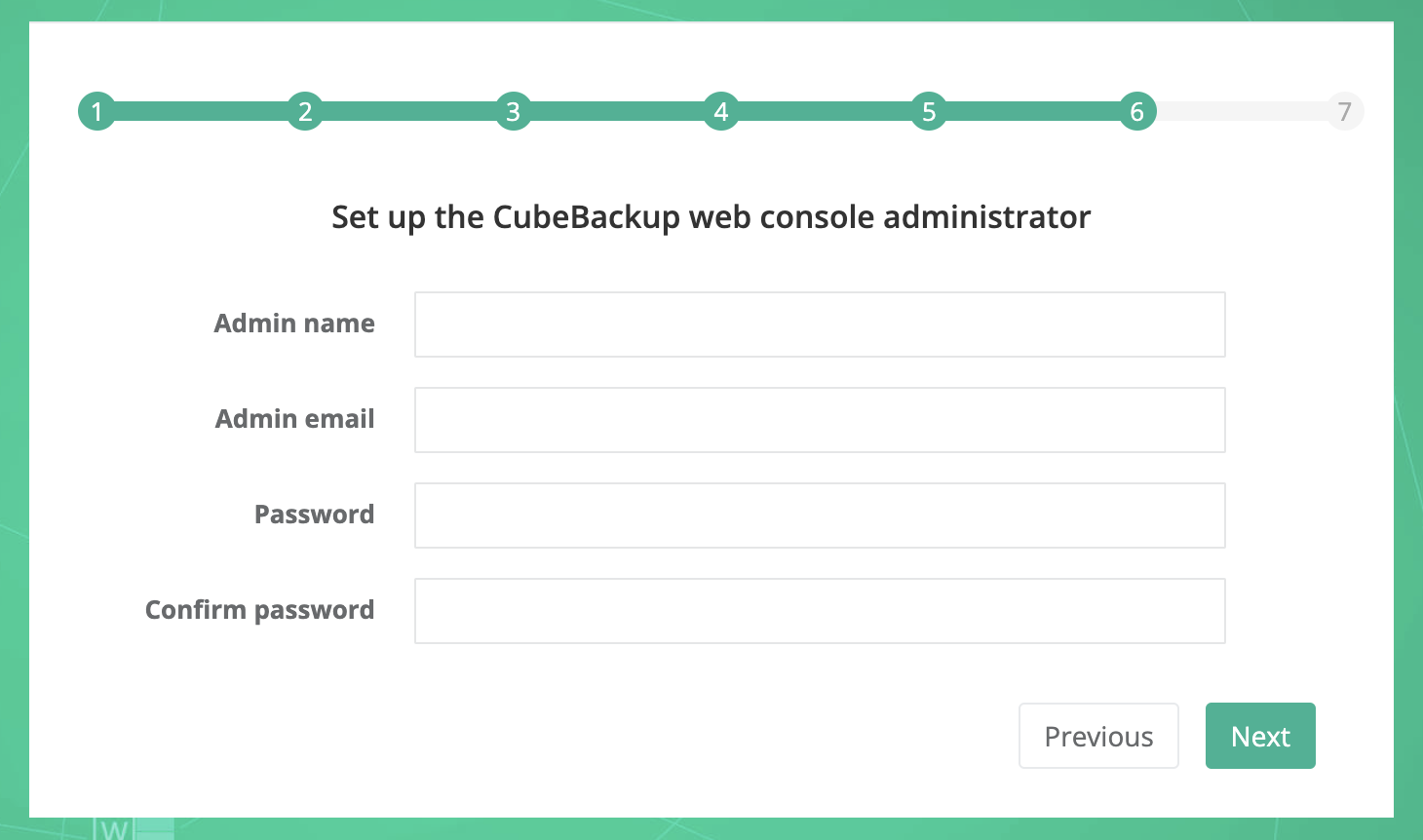 After clicking Next, please wait a few seconds for CubeBackup to be initialized. Then you can log in to the CubeBackup web console to start the backup or configure CubeBackup with more options.
Additional information